"When we moved here twenty years ago, I decided to use rainwater on the farm, supplemented with tap water," says father-in-law Izak Bree. explains father-in-law Izak Bree, "The groundwater on the island is not good enough. Unfortunately, it soon became clear that the pipes were contaminated and clogging up. You only have to flush the pipes once or twice and then you're done. We therefore went in search of a structural solution."
"With the knowledge we have now, we should have taken water samples."
The first thing Izak did was to replace the pressure system in the barn. The communicating vessels were replaced with a high-pressure system. Unfortunately, it still proved insufficient and a chlorine dioxide-based cleaning agent was also added to improve the water. "With today's knowledge, we should have taken water samples earlier to check how well it was working," Van Rijswijk points out, "At that time it seemed good enough, but from the water sample it was still quite contaminated."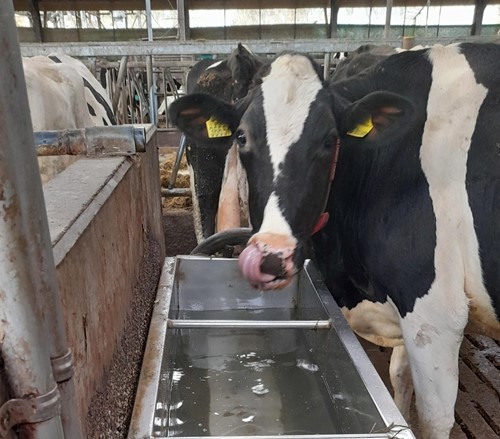 After persistent health problems with the dry cows, they were tipped off about the Watter system. The feed consultant had experienced the impact of the Watter system at another dairy farm. It turned out to be excellent advice: "First we had water samples taken: from these we learned that our water was still not nearly as pure as we thought. After contact with some other farmers with such a system, we decided to approach Watter and to our great surprise the result was overwhelming. We thought we had it together, but apparently could still make a huge step."
"Independently proven that the water is now perfect."
As seen in the video below, the biofilm (slime layer) in the tanks disappeared within days. In contrast to the measures taken previously, it also did not return. The visible result was thereby supported by independent water samples that proved that the water is now perfect in the troughs. And better yet: attention to the water pays off.
"Because the water is now completely clean, no germs enter the animal through the water," Henk explains, "this not only means that we exclude direct illness, but also that the animal's resistance is not put under unnecessary pressure. Moreover, it's not just the cows who benefit from the clean water, you also notice it yourself in your daily work. The troughs are clean and that saves a lot of labor that I used to spend on scrubbing. And that makes farming better, more beautiful and more efficient!"